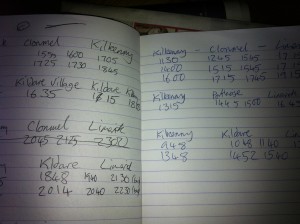 It's always been a challenge to try and plan public transport journeys in Ireland that don't begin or end in the centre of Dublin.  Irish Rail and Bus Eireann have their own journey planners, but they don't integrate together with each other, never mind with some of the excellent new private coach operators who are taking advantage of the new motorway network to offer quick and comfortable direct services.
Enter GetThere.ie – a proper public transport journey planner for Ireland.  You can enter your origin and destination, and the site will spit out all your available options.  The site is very clever at integrating between different services, so for example a search from Kilkenny to Limerick will offer you the option of taking Dublin Coach to Kildare Village, and then taking Irish Rail to Kilkenny.
What's more, the site has an integrated carsharing facility – you can request or offer a car share, and it shows up immediately in the search results.
The guy behind it is very responsive and responded very quickly to a comment I made on the site. I love the fact that something so useful and complex has been developed by one guy plugging away with (presumably) a shoestring budget. Although presumably his job could have been a lot easier if the National Transport Agency mandated that operators share their timetables in an open format. Knowing the NTA they'll probably drop a few million on a competing website which won't be nearly as good.