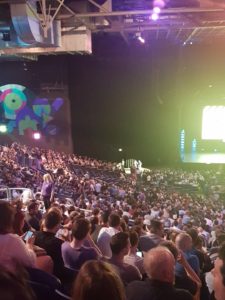 I had been aware that Jordan Peterson had been coming to the 3 Arena in Dublin for the last few months, and if I'm honest I was looking forward to a minor inner gloat as he spoke to a tiny crowd. I was shocked to see a photo of thousands of Irish men gathered to listen to a message that masculinity is in crisis, because feminism and liberalism has gone too far (this New Yorker article has a relatively balanced summary of his views). If I'm honest I can't think of a progressive thinker who could draw such crowds on a sunny July afternoon.
I think this is evidence that there is a large cohort of men in Ireland, especially younger men, who are deeply dissatisfied with some of the progressive changes we've made as a society, who feel that gender equality has gone 'too far' and who think that the role of men is being dangerously undermined in Western societies. A crisis, if you will.
This development saddens me, and makes me worried about the future. I don't know what the answer is, except that Irish men who are progressive and feminist and believe in tackling inequality need to do more. We need to start our own public conversations about gender and why we believe that equality is not here yet, and why it's worth fighting for. We should not demonise the thousands of men who turned up in Dublin yesterday, but we should also be making our own arguments why a more equal and progressive future is a better one, for men and women.
By recognising our privilege as Irish men, and using that privilege to amplify and support people with less privilege than we enjoy, we become better fathers and sons and brothers and husbands. I don't know how we can do it, but we need to listen to compassion to those who disagree with us, and figure out together a better future for Irish masculinity.