Liveable Limerick are proposing a "Superblock" in the city centre (PDF link with more information) bordered by William Street, Parnell Street, Mallow Street and Henry Street. The Superblock would be accessible for vehicles, but would not allow vehicles to travel through the block on their way to somewhere else. It's a fabulous idea that would allow us to achieve a really ambitious people-centered city centre that would act as a magnet for investment in the region.
Here is a simplified schematic of the current traffic configuration around the Superblock, with each lane shown in black: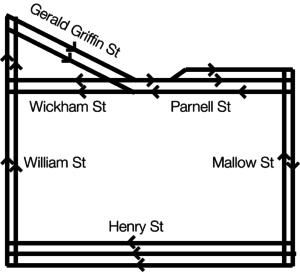 Cities that plan to grow need excellent public transport. Buses in Limerick City are…less than excellent. The most frequent service from Raheen to Castletroy in particular suffers large delays because buses have to thread a meandering route through the city centre. There is also little integration between bus services. How could you configure the streets bordering the Superblock that would give priority to public transport? Here's one idea, with bus lanes in green: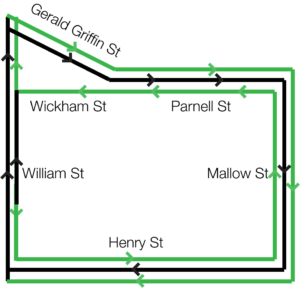 You would need to remove on-street parking from Mallow St to enable a third lane of traffic. But the benefits would be huge:
All buses have fully segregated routes in both directions around the superblock
All bus services interchange at the bus/rail station, apart from the Westbury/Fr Russell Rd service which offers a cross street interchange with all other services at Mallow St
Faster bus times
More reliable service
Here's what the city bus services would look like with this plan: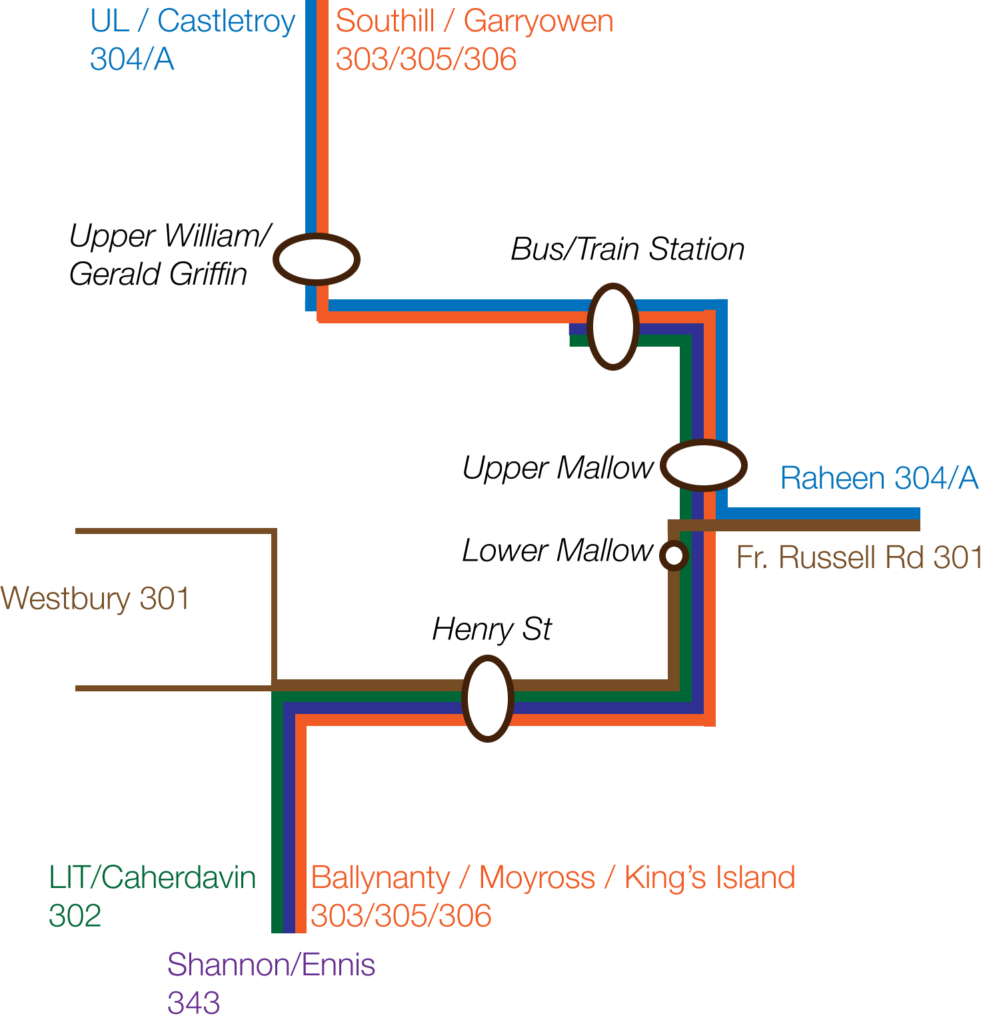 For a stretch goal, Parnell St could easily accommodate an on-street terminal for private buses, allowing private buses run by Dublin Coach, Citylink and JJ Kavanagh's to interchange with city services, and to take advantage of segregated routes around the city centre.