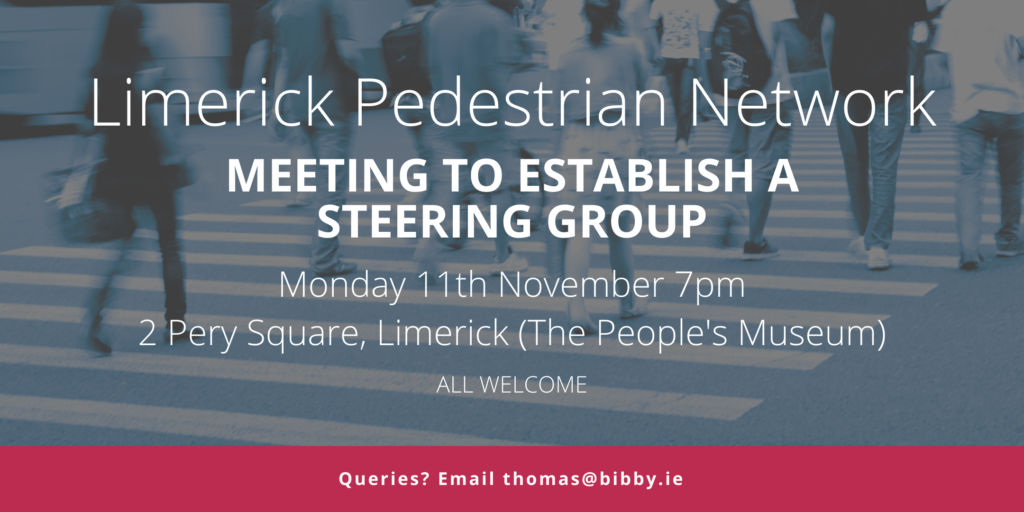 Pedestrians should be top of the transport hierarchy but this can be difficult without a dedicated organisation to advocate for their needs. Neasa Hourigan was so frustrated last year by the inaccessibility of Dublin's streets for pedestrians, especially walking with her daughter who has a visual impairment, that she set up the Dublin Blockers Twitter account to document some of the barriers Dublin's pedestrians face in simply trying to get around. She later formed the Irish Pedestrian Network to try and formalise a group to advocate for pedestrians, inspired by the recent success of various cycling advocacy groups.

Neasa came to Limerick in September and there was good attendance for her meeting in Narrative 4. There was a sense that we needed a group in Limerick to be a local presence for the Irish Pedestrian Network, to be a voice for better facilities for pedestrians in Limerick City, and throughout the towns and villages of County Limerick.
A lot of people who attended the meeting in September got involved in the campaign to improve the plans for O'Connell St. The fact that we were unable to persuade councillors and officials to accept that even part of our main street should be reserved for pedestrians makes the establishment of Limerick Pedestrian Network even more urgent. Now that the council has passed plans for O'Connell St, it's time to formalise a voice for pedestrians.
There will be a meeting on Monday 11th November 2019 in 2 Pery Square at 7pm to try and establish a steering group. The task of the steering group will be to properly establish the Network over the next six months, reaching out to different groups to make it as inclusive as possible, and linking in with groups who are already working in this area. No matter how we travel, almost all of us start and end our journeys as pedestrians. If you're at all interested in helping to give a voice to footpath users, especially those with mobility needs, I hope you'll consider coming along.